Best Car Battery Charger 2023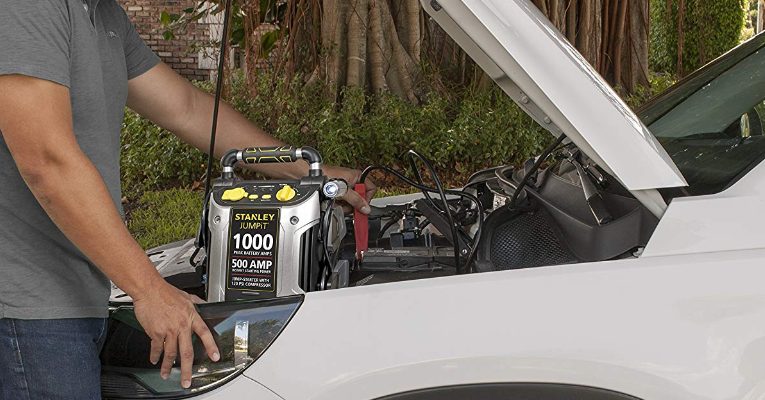 There's probably nothing worse to a road traveler than a dead battery in the middle of nowhere. Whether on vacation or on a business trip, if you're car battery is not well-juiced up, you can kiss your peace of mind goodbye. While you can call for help, the agony of waiting for someone to work on it is something you really don't want to spend time doing. It could happen to anyone who left the headlights running or turned on the car radio for some music. Battery chargers for cars have been around for this sole purpose and a lot of today's design not only charges them, it also conditions, jumpstarts your battery as well. Nowadays, smart features are what car owners and mechanics want because it's been proven that power and reliability aren't enough anymore. They want something that's close to AI and now more and more manufacturers are producing car battery chargers with tiny computers that make the charging process more efficient.
There are many car battery chargers that will offer you the basic features. It's important to know which features are needed and will do your battery a world of good. Nobody wants to scour shops for too long a time to take a look at these devices especially when life is a giant hectic ball. We've gathered all the necessary information for you so you can look at car chargers and make it easier for you to decide which one is right for your car battery.

Buying Guide for the Best Car Battery Charger
What are the factors that we need to give a good thought about before spending a dime? In this buying guide, we'll be discussing how to choose a car battery charger as well as take a look at some highly-rated car battery chargers in the market today.
Know your car battery charger
Picking the car charger battery with the right combination of features can be a daunting task but it doesn't have to be that way.
You'll need to know what voltage your own car battery runs on. Voltage represents the power or strength of the electrical source. The common voltage that gets cars running is at 12 volts so car chargers at this amount as well. It will give you the safety that you need. It will also help if you have car chargers that have a lower voltage such as 6 for smaller vehicles such as a motorcycle or a UTV. You may find one that will serve both the higher and the lowest voltages in one.

Amperage, when compared to voltage can sometimes be thought of as similar but basically, it can also be measured in strength on how fast it can charge the car battery. This isn't necessarily good, though. A battery charger that automatically detects both voltage and amperage is the ideal type to purchase. For the convenience of those who don't have the skill nor the time to change settings, it is definitely the one to get.  

Another important factor is the safety measure that the car battery should come with. There are a few features that car battery chargers should also have aside from the toxic chemical sit has are reverse polarity indicator for properly connecting the battery to the right cable; an automatic detector for voltage and amperage that shields the car battery charger from overheating while charging; and clamps that are spark-resistant that won't startle you once you start charging.   
Top Choices for the Best Car Battery Chargers
Best Jump Starter Overall
Some jump starters will have built-in features to try to get your attention but the variety of extras that Stanley J5C09 has brought it to the top as best jump starter overall. Aside from that it has enough power to jump start a range of vehicle sizes, it also has emergency add-ons like a flashlight and an air compressor. Perhaps the main attraction here is that it also doubles as a battery charger. The reach of this device is at 3.5 feet but still easy to store away as it will fit anywhere from your toolbox to your car compartment. The reverse polarity indicator will let you know if the connection is amiss. Simply charge directly to an electrical source. No worries that it will heat up because it has a overheating protection.  
Pros
It has the best emergency features

Takes only about a few jumps off from one charging

It's portable and easy to use
Cons
It has a short-term warranty

Too heavy to be a jump starter
Best Ultra-Portable Jump-Starter

No products found.
No products found.
With an output of 1000 amperes, the GOOLOO GP200 is easily our pick as the best portable jump starter among the sea of battery car chargers. And why not, when it's packing that much power in a box that's only 6 inches. When you have this little David, you can power up Goliaths such as huge trucks and jumpstart your vehicles for as much as 30 times! Equipped with a flashlight, it will only take up a very small space in your compartment, toolbox, or camping gear. No need to worry about the bitter cold because it's lithium-ion battery still works and will charge your car battery. Your phone running out of power? The GP200 will charge your mobile devices as well. With a built-in LCD feature that indicates when it's running out of power.  
Pros
It charges easily with any A/C outlet

The 1000 amps will power up both large vehicles and your tablet or phone

Solidly built and portable
Cons
The cables are too short

It only has a limited customer support

Best Battery Charger Overall

Versatile battery chargers are always in-demand and NOCO Genius G3500 stood out from the rest. If you want one that can power up both a 6- and 12-volt lead-acid batteries plus a lithium-ion battery at 12-volts and maintain them, this is sure to be the one to grab. It has a 12V Repair Mode, it can bring back sulfated batteries that have lost their abilities to charge aside from charging 12V batteries. It comes with a protection for reverse polarities to keep the battery safe from accidental placements of clamps to the wrong connection.
Pros
The charge lasts for a long time

Has an overcharging protection

The recovery feature for sulfated batteries is excellent
Cons
The price is leaning a bit to the high-end side

There's a tendency to heat up
Conclusion
Car battery chargers are meant to help you with the maintenance of your car batteries. You need to be vigilant to make sure that you're picking good quality over something cheap. This is your vehicle where anything can go wrong and could cost your safety and the safety of your loved ones as well. To say that to choose wisely is an understatement. Go ahead and search out more options that's right for your car battery and keep in mind the factors that you read here. You'll be sure to find the one that will serve you well for a very long time.