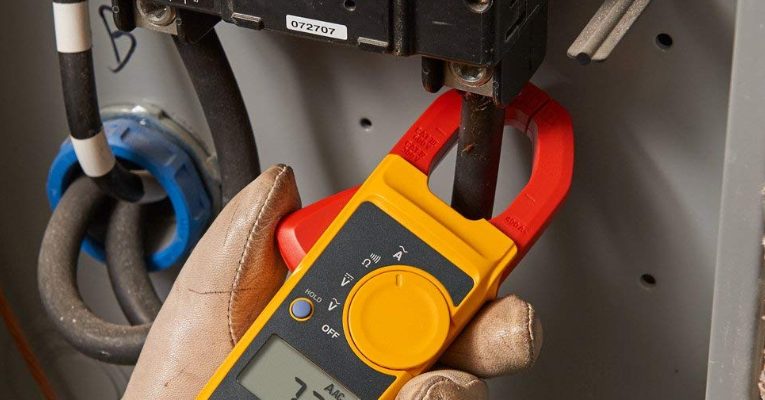 Updated on: February 18, 2019
Electricians and do-it-yourselfers who constantly work with electricity, particularly with alternating currents or AC need clamp meters. When there are fluctuations in currents, clamp meters are used to diagnose circuits, whether it's for residential or commercial. Meter clamps may also be used on land and water vehicles.
So how does a clamp meter work? Magnetic radiation is produced by current which is detected by the clamp meter when it is placed on cables. Measuring does not take long at all as it is determined in seconds. You can determine if a circuit is powered alive or not through clamp meters and know how much current is present.
It has many functions and the necessary features to be able to spot problems that can make trouble in the long run which is why securing the best in the market is vital. Delicate tech work should also include knowing what will serve you and not.
Your toolbox should only include the best clamp meter for your needs. Because there is a vast variety of clamp meters produced and introduced daily, we're here to help you spot some of the best ones with the highest reviews by experienced professionals and DIYers. You may spot your own gem among this list so keep an eye out so that you'll get an idea of what's out there.


The Best Clamp Meters Buying Guide
While there are a number of well-known brands, it's still good to compare features and functions. But what should have is a set of standards to be able to determine which one you should pick. Determining what you want and need will allow you to get the best deal you can possibly get.
What should the best clamp meter have?
Clamp meters don't have all the same features and because they are not produced equally, there are some things one has to take into consideration before buying.
One of the most important features of the clamp meter is its accuracy. An accurate diagnosis is vital to be able to pinpoint the precise measurements. The best clamp meter should be able to produce a true-RMS reading because electrical noises from other electricity-powered devices can cause an interference and cause readings to be inaccurate. The ideal accuracy is 2%

±

5 counts. Anything over 5 counts should be avoided.

Clamp meters should also be able to work in different types of environment and conditions that it's likely to be subjected to. There are different clamp meters for indoor use only and some will only be able to work at a specific temperature. Because you won't always be working in the same familiar setting, it's better to get one that you can bring anywhere and anytime without being subjected to limits.

It is best to see what types of features included in the clamp meter that will help you do your job. Clamp meters that are packed with different functions are not always what is needed because it will only be a distraction to the true purpose of you getting one. Needless features like a tape measure are not important. Simply pick one that has the variations that will push you to get the job done as quickly as possible.
Top 5  Clamp Meters
Fluke devices have been reputable for years now and it's not surprising why. Fluke 323 has some of the best features that any professional and DIY could ask for. For accurate measurements, it has True-RMS for AC voltage. Detects up to 400 amps for current measurement and up to 600 volts on measurement for DC volts. The resistance of up to 40 kΩ with continuity can be detected. Expect this clamp meter to also hold a good rating on safety with CAT III 600 volts partnered with CAT IV 300V. It's easy to use with a slim design, a built-in hold button for display, and its own carrying case for proper storage.
Pros
It is very easy to use

Very durable, built like a brick

It is a tester with mostly good functions
Cons
Has no slot for probes

Test leads can't be wrapped around the meter
Amprobe designs its clamp meters to be as complete as they possibly can which is why it is a popular brand to begin with. The Amprobe AMP-210 is one of the few clamp meters in the market that were made to contain everything that you'll need and not simply as an accessory.
It is a clamp meter created for basically for circuits in AC. One thing that you'll notice is the dial that can be turned to choose different electrical properties such as voltage, current, capacitance, and resistance. The current can be measured in two separate groups.The area where the larger dot is present is where the main current measurement will appear. When testing smaller devices, the measure of the microcurrent is displayed where the smaller dot is situated. You may find that this is also for small-sized electronics, meaning it also works for voltages in DC. One useful feature it has is the filter that blocks out any electrical noise that will affect the reading.
Pros
Great for field service technicians

Cannot be used with a

mini k-type thermocouple

Reads capacitance immediately
Cons  
It doesn't have a magnetic back

Will only measure when cables are placed at a specific spot near the jaws
This clamp meter model is so capable that it can detect and measure every electrical value such as AC and DC voltage, diodes, resistance, current, and capacitance among others. Detecting temperature and ghost voltage is a cinch to Klein Tools CL-800 through its thermocouple probe. No need to set the range yourself because it has a built-in auto-range. When you want nothing to do with stray voltage, its low impedance will block it out for you. As a double safety feature, it has both the 600V of CAT IV and 1000V of CAT III. It's so durable that it can withstand a 2-meter drop. It's a suitable, all-around clamp meter for home use, great as an office utility, and for light-industrial purposes.
Pros
Capable of industrial settings

Has great value for money

It has a great meter and good basic functions
Cons
Doesn't have a built-in magnet

The meter's leads are weak
The Milwaukee 235-20 is one clamp meter that also dominates over the rest that's out on the market for the following features. First off, it has a True-RMS that enables it to provide accurate measurements that shields it from picking up other electrical signs. You will always have precise readings because of this little feature. It has a range of 600 volts in AC-DC and also sizes up AC in 400 amps. You'll be sure to feel safe around this clamp meter for its 600-volt CAT III. Physically, its jaw is built to be thin to be easily put on bundles and panels, has its own LED light for working in the dark and a basic black and white and a high-contrast display that's easy on the eyes.
Pros
Great design with a rugged construction

It has a great price and works well

Has a high-quality
Cons
The alert on continuity is low
For the do-it-yourselfer who likes to tinker and do testings himself, it's only fair to not spend so much on something that won't be used over time. Signstek UT201E is a smart little gadget that's accurate and easy to use. It's capable of measuring the basic electrical values in current, resistance, capacitance, and voltage. It has data hold for saving the last reading's information and auto-range so you don't have to set it yourself. This device has a low battery indicator, True-RMS for accurate readings, an LCD display that's very easy to read, lightweight, and measures around 3V of diode.
Pros
Easy to use and the readings are good

It is good enough for use at home

It is very durable
Cons
Conclusion
Clamp meters are devices that are supposed to provide aid when dealing with electricity. This means companies that make these tools have the responsibility to make sure that consumers will get what they paid for and also will be safe while using it. Because of the expanse of variety, you can't really rush yourself into buying because there's a huge possibly of making the mistake of getting ripped-off. This is why you can never be too careful when it comes to such tools. Take your time to research for more options so you'll be able to find what you really need.